Mon., Aug. 19, 2013, 1:13 p.m.
Ex-SReporterTheresa Goffredo, RIP
She was a New Yorker. Chic, often acerbically witty and always willfully hard-working.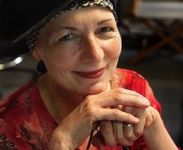 Everett Daily Herald reporter Theresa Goffredo died Thursday evening following a long battle — a fierce fight — with cancer. While it was obvious that this petite, dark-haired Italian-American woman wasn't a Left Coast native, Everett clearly was her chosen hometown. Goffredo, 55, loved Everett. As a news reporter and later as an arts reporter, she covered the city of Everett. She volunteered as a master gardener docent at the city arboretum, she advocated for programs at the downtown YMCA, and she served on the PTA board at Jackson Elementary School, where her son Dashiell, 9, is a student. Like the New Yorker she was, Goffredo walked. Everywhere/Gale Fiege, Everett Herald. More here. (Everett Herald photo: Dan Bates)
DFO: Theresa was one of my early work mates in the North Idaho bureau. She was a fine, respected reporter. I don't know if any of you remember her. But those of us who knew her always will.
Thoughts?
---
---