Mon., Aug. 19, 2013, 11:59 a.m.
Joker: Cliff Hayes Is The Problem
Joker: Cliff Hayes' attitude and behavior is reflective of a large population of people in this country who fail to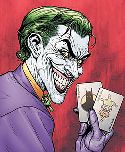 grasp that they're part of the problem. They're part of the reason we have Obamacare. They're part of the reason our health care premiums continue to spin out of control. Hayes is making a selfish choice by smoking. Smoking is bad for you. It causes long-term medical problems. Smoking-related cancer can take decades to show up. So when people like Cliff get cancer in their late 60s, who do you think is going to pay for it? It won't be Cliff. Instead you and I will be footing the bill for his bad choices. Insurance companies won't want to cover Cliff when he retires. Doctors and hospitals certainly don't want to see people like Cliff. So, they're going to charge everybody more to cover the costs of saving Cliff's life. More here.
Thoughts?
---
---