Mon., Aug. 19, 2013, 4:31 p.m.
Rogers: Perfect Ice Cream Venue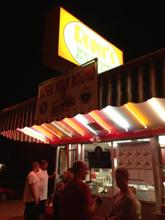 Over the past several years, both through necessity and changing tastes, I've developed a bit of an attitude about ice cream. For the most part, it tastes too rich, too thick, too ,,, well, too much. And so I've opted more and more for frozen yogurt, especially those marked low fat. Give me a Froyo Earth any day. On Friday night, though, I opted for some ultra-rich ice cream. While spending the night in Coeur d'Alene, after having had dinner with friends, we drove down Sherman Ave. looking for something to salve our sweet teeth. And we found it at Roger's Ice Cream & Burgers/Dan Webster, Spokane7 Dually oted. More here.
Question: Is there a better ice cream joint in Inland Northwest than Rogers, on Sheman Avenue?
---
---