Mon., Aug. 19, 2013, 5:33 p.m.
A Sunday Sail & Tony's
Our friends Larry and Ellie Weiser own a 34-foot boat that they keep moored on Coeur d'Alene Lake. They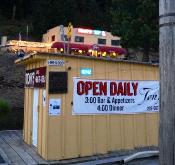 invited us out for a Sunday sail, which turned out great because the weather was just about perfect: sunny, clear, warm and windy. After sailing south for a couple of hours, dodging the occasional powerboat but mostly just enjoying the lake's relative emptiness, we headed back north to take in a dinner at Tony's on the Lake, which — according to its sign — offers "Italian Inspired Cuisine." I had the Fettuccini alla Bolognese (which, to be honest, was merely so-so). My wife's Pollo al Mattone was better, but Ellie's Tortellacci di Carne (little tortellini filled with beef and veal and covered in what tasted iike a butter-sage sauce) was delicious/Dan Webster, Spokane7 Dually Noted. More here.
Question; When did you last visit Tony's? And/or: Which Inland Northwest waterfront eatery is your favorite? Why?
---
---