Wed., Aug. 21, 2013, 2:55 p.m.
Randy McNally Still ♥s Sandpoint
Once again, Rand McNally has its eyes on Sandpoint as a candidate for the most beautiful small town in America. Voting is under way for the 2013 Best of the Road contest, which encourages small town residents to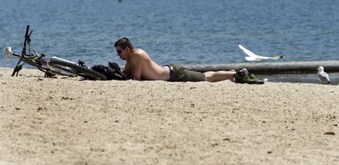 vote for their communities in several categories, which this year include most beautiful, most patriotic, most fun, friendliest and best food. This year, the contest also evaluates the best small town to participate in geocaching — an outdoor treasure hunt where participants hide and seek special containers using a GPS receiver or mobile device. Sandpoint broke ground in 2011 when it was named most beautiful small town in America at the end of the first Best of the Road contest. According to Greater Sandpoint Chamber of Commerce president Kate McAlister, the win was one of the biggest coups in recent years for marketing the town/Cameron Rasmusson, Bonner County Bee. More here. (Kathy Plonka SR file photo: Sandpoint resident Cody Evans enjoys Sandpoint City Beach earlier this summer)
Question: Would you move to Sandpoint if you could?
---
---