Diamond Cup Handles Problems
Herb Huseland of Bay Views, who will serve as Diamond Cup hydroplane racing announcer provides this update for Huckleberries Online re: dealing with technical difficulties:
We are solving problems as they occur and discovering others as we go along. One hitch is the P.A. system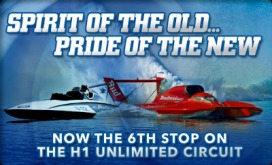 will be severely limited. To counter that, we will have a low power FM station broadcasting the P.A. announcements as well as Mike Fitzsimmons calling the race. Anyone that has a portable radio can dial in 90.5 on their FM radio. Other than that, we expect traffic delays, crowds both at the fairgrounds and at the venue itself. If you own bicycles and can park away from the race course, ride in on bikes you can access any part of the viewing area. Should you wish to leave your bike there is a supervised bike corral across from the Beach House. More here.
Question: How do you plan to get to the hydroplane races?
---
---