Wed., Aug. 28, 2013, 8:48 a.m.
Vestal: Hatemongers Mar Vet's Death
What happened to Belton was horrible. And what happened to him in death – as his name was taken up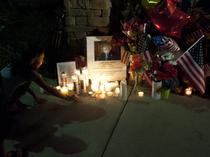 cynically for political fodder in the world of bloviation and dog-whistle racism – was horrible in a different way. Rush Limbaugh and Matt Drudge and their loyal followers rushed to capitalize on the death – to turn his tragedy into a chance to trumpet the fact that his alleged killers are black. This is part of a strenuous post-Zimmerman narrative in Rushworld, in which the death of a black teenager in Florida and the subsequent uproar over the case has been followed by an exhaustive effort to scour the nation for black criminals to hold up as anti-Trayvons and with which to taunt President Barack Obama, who stands accused of being the "real racist"/Shawn Vestal, SR. More here. (Tyler Tjomsland's SR photo: Delaina Duran, 10, of Spokane, places a ring she made of Play-Doh on a memorial erected in memory of Delbert Belton)
Question: Have you heard any of the talk-radio fallout re: the beating death of WWII veteran Delbert "Shorty" Belton?
---
---