Thu., Aug. 29, 2013, 2:09 p.m.
Donated Volumes Carry On Teaching
Diane Zahand had a passion for early childhood education. Now, even after her death, her work is continuing. After Zahand died on Oct. 10, her husband, Jim Zahand, donated her collection of more than 5,000 books to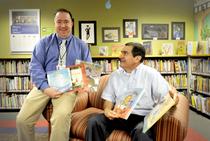 the Spokane County Library District. With the books came a generous check and a request that SCLD create a memorial fund in her name. "In her eyes every child was a gifted child," Zahand said. He traced her love of teaching to the birth of their two sons. "She got involved in their education. It sparked something in her and from that time on she was immersed in early childhood education"/Cindy Hval, SR. More here. (Jesse Tinsley SR photo: Doug Stumbough, left, of of the Spokane County Library District, accepts the donation of about 5,000 books, mostly children's titles, from Jim Zahand, right, on Friday)
DFO: I started my public education as a 5-year-old in first grade at Elkhorn Ferry Elementary, a two-room schoolhouse on the Sacramento River, between Sacramento and Woodland, Calif. How about you?
Question: How old were you when you started school? Describe your first school.
---
---