Thu., Aug. 29, 2013, 8:16 a.m.
Fort Hood Shooting Ended Career
The father of a Post Falls soldier wounded when Maj. Nidal Hasan opened fire at Fort Hood in 2009 said his son has post-traumatic stress from the shooting that ended his military career and has left him unable to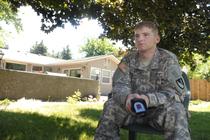 support himself. On Nov. 5, 2009, George Stratton III was at Fort Hood to complete medical processing in preparation for a January deployment to Afghanistan. He was one of the 32 people wounded by Hasan's bullets; Stratton was shot through his left shoulder, shattering his humerus bone. Among the 13 killed in the attack was Michael Grant Cahill, 62, a native of Spokane and graduate of Rogers High School and Eastern Washington University. "We are still hurting," said Cahill's daughter, Keely Vanacker, who attended the sentencing. "But it does give us finality, and this chapter of our lives is over"/Alison Boggs & Mike Prager, SR. More here. (SR file photo: Hasan shooting victim George Stratton III, then 19, relaxes at his parents' Post Falls home in 2010)
Thoughts?
---
---