Thu., Aug. 29, 2013, 3:19 p.m.
Herb Quits Hydro Announcing Gig
On his Bay Views blog, Herb Huseland announced that he's burned out from treatment by Diamond Cup hydroplane organizers and has resigned from announcing duties this weekend:
After days of people in my face over resident parking and access along Silver Beach, ticket holder problems,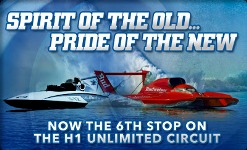 fickle changes in direction by management It came to a head today when the straw broke the camel's back. Faced with fans less than 24 hours from now, the sound guy switched FM frequencies. This, after a thorough airing of 90.5. This was by my hand, publicized through the Spokesman-Review, the Coeur d'Alene Press and this blog and by it's republication in Huckleberries on line. Fans going to the race expecting 90.5 are going to come up empty. With no time left to publicize the switch, most race fans will not hear the P.A. announcements. While I regret the necessity of leaving, I was too close to boiling over to stay. More here.
Thoughts?
---
---