Thu., Aug. 29, 2013, 11:42 a.m.
Petrino Brings New Culture To UI
Both feet on the ground. Shoulders back against your chair. Eyes locked on the speaker at the front of room. It sounds like an order a Marines drill instructor might give on the first day of boot camp. But for Idaho football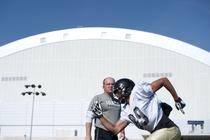 coach Paul Petrino, this is a rule he demands that his players abide by in every meeting – whether they're learning from their position coach or in a classroom listening to a history lecture. Shortly after Petrino took the Vandals job in December, he started his first team meeting with players by issuing the same sit-up-and-pay-attention command he's always stressed as a coach. Then he repeated it, this time using an even sterner voice. Consider it Petrino's first step in creating a culture that he sees as a vital component to reviving a program that was on life support as an FBS member just a few months ago/Josh Wright, SR. More here. (SR photo: Paul Petrino brings passion and demands discipline in every aspect of his football program, including fundraising to continue improving facilities like the Kibbie Dome)
Question: Are you optimistic about the 2013 Idaho Vandals football team?
---
---