Thu., Aug. 29, 2013, 8:31 a.m.
Summer Theatre Closure Stuns Staff
The move (to close the Coeur d'Alene Summer Theatre) left Roger Welch, the artistic director who has been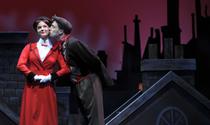 with CST since 1986, and Michelle Mendez, the executive director, shocked. Both said they had presented to the board what they believed was viable business plan and two major fundraisers that would put the theater in the black. "There was a plan to fix this that was going to work," Welch said. "They weren't buying it." Mendez said she didn't expect it to go this far. "We had a plan for a big fundraiser and we were figuring out how to cut back. We had a plan to go by, but Roger and I were excused from the executive session"/Carolyn Lamberson, SR. More here. (SR file photo: Mallory King and Christian Duhamel rehearse for CST's production of "Mary Poppins")
Question: Do you expect the Coeur d'Alene Summer Theatre to rise from the ashes?
---
---