Thu., Aug. 29, 2013, 11:05 a.m.
Vestal To Discuss 'Godforsaken Idaho'
Shawn Vestal will share his short-story collection, "Godforsaken Idaho," at a book talk at 7 o'clock this evening in the community room of the Coeur d'Alene. Vestal draws on his own experiences as a former Mormon to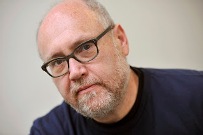 reimagine life in Northwestern America. An acclaimed McSweeney's and Tin House contributor, Vestal conjures the rough and rowdy reality of the American West and the humor and scrappiness of everyday life, illuminating the articles of faith that make us human. He is a columnist and reporter for the Spokesman-Review and a former copy editor for the Coeur d'Alene Press. Vestal's stories move backward in time and are loosely connected by a vast and sprawling family. "The First Several Hundred Years Following My Death" (previously published in Tin House) is a comic vision of the afterlife in which everyone in heaven is the age they were when they died – a fantasy both profound and absurd/Coeur d'Alene Today. More here.
Question: Have you read "Godforsaken Idaho"?
---
---