FRIDAY, AUG. 30, 2013, 8:36 A.M.
Hydro Points Leader Ready For CdA
Steve David would love nothing more than to notch a win at Coeur d'Alene's Diamond Cup unlimited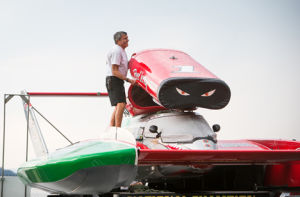 hydroplane races this weekend, adding to his long list of victories. "The win would mean a lot to me personally," David said Monday in an interview with The Press from Florida, where he lives and works. He has 18 total unlimited hydroplane race wins, placing him fifth all time. Just this year, as the driver for the Oh Boy! Oberto team and the Miss Madison hydroplane, he has won races at Sacramento, Calif., and the Tri-Cities, Wash. He has a 663-point lead in the National High Points Standings for this year. He has never raced on Lake Coeur d'Alene, but neither has anybody else in the field. David, 59, has, however, visited Coeur d'Alene once, following a race in the Tri-Cities/David Cole, Coeur d'Alene Press. More here. (Shawn Gust's Coeur d'Alene Press photo: Jimmy Gilbert, computer and electrician crewman, prepares the Oh Boy! Oberto boat for the Unlimited Hydroplane class Thursday)
Question: Why are you going to the hydroplane races?
---
---