Calob Wilson sat on the tailgate of his dad's pickup, dandling a rack of antlers on his knees. It was the opening weekend of rifle season,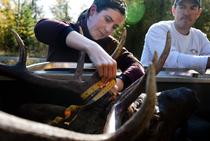 and the 13-year-old had just shot his first elk, a five-point bull. For more than 40 years, members of the Wilson family have hunted in Idaho's Upper St. Joe River drainage. The St. Maries family has stuck with its traditional hunting grounds, even after wolves moved in. Filling the freezer with elk meat requires more effort, said Calob's dad, Chris Wilson, who spends more time tracking game. Wary bulls bugle less when wolves are around, and the elk are more scattered and secretive/Becky Kramer, SR. More here. (Tyler Tjomsland SR photo: Greg Stancil looks on as wildlife biologist Barb Moore measures the antlers of an elk killed by Stancil's wife, Brook, on Oct. 13 at a checkpoint near St. Maries)
Question: Have you harvested your deer or elk this year?