Fri., Dec. 6, 2013, 4:44 p.m.
Plumbing Woes
I have been fighting a plumbing problem for about one month.I found that the worst place a faucet can go bad is in the shower/tub.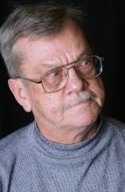 Naturally, it was the hot water side. This caused me to have to turn the hot water off on the hot water tank which is accessed outside. Yesterday, thanks to a very helpful Mark Streater, I drove into town to get a new one. The last time I replaced a leaky faucet, I just pulled the handle off and replaced the double aught washer. No more. Modern technology has once again fixed something that wasn't broke. Now we have stems and seats, O rings and other interesting pieces. In order to find the right parts I had to first remove the old one. Unfortunately, I didn't have the right stuff/Herb Huseland, Bay Views. More here.
Question: When did you last personally deal with a plumbing problem?
---
---