Mon., Dec. 9, 2013, 9:29 a.m.
Critics: 'Smaug' Beats 1st Of Trilogy
Love it or loathe it, "The Hobbit: The Desolation of Smaug" has at least one big win going for it — and it's spelled out right there in the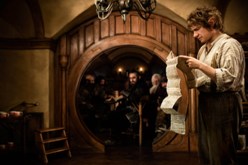 title. Director Peter Jackson's second of three "Hobbit" films hits theaters on Friday (December 13), and already, the reviews are in. While the overwhelming majority agree that "Desolation of Smaug" is an improvement in every way over its "Unexpected" predecessor, the sequel does have its detractors — but even those critics widely agree that Smaug, the fire-breathing dragon voiced by "Star Trek Into Darkness" and "Sherlock" actor Benedict Cumberbatch, is a rousing success/MTV. More here. (AP file photo: Martin Freeman as Bilbo Baggins is shown in a scene from the fantasy adventure "The Hobbit: An Unexpected Journey")
Question: Do you plan to see Hobbit sequel this weekend? Or wait until the crowds thin out?
---
---