Mon., Dec. 9, 2013, 9:19 a.m.
Edit: De Klerk, Mandela Defy Racists
What must the white supremacists who longed for a homeland in the Inland Northwest have made of South African President F.W.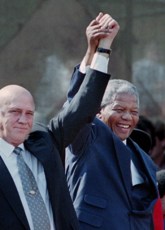 de Klerk? Here was the leader of a white-ruled homeland in Africa opening prison doors in 1990 and releasing Nelson Mandela, the former African National Congress revolutionary who would, unquestionably, become his successor in an open election. What could motivate such a betrayal of the Afrikaners who had ruled South Africa absolutely since the 1948 declaration of apartheid, the official state subjugation of the majority black population? There were gasps in the parliament when he announced the end to sanctions against the ANC and other parties and boos from the far-right supporters of his government/Spokesman-Review Editorial Board. More here. (1994 AP file photo: Mandela and de Klerk shown together)
Thoughts?
---
---