Mon., Dec. 9, 2013, 9:49 a.m.
A Grip On Sports: Not A Bad Loss
Usually the typical Northwest sports fan has a Chicken Little quality to him or her. You know, when something bad happens, the sky is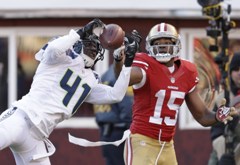 falling. Heck, even when something good happens, they usually expect the other shoe to hit them on the head. But following yesterday's loss in San Francisco, it doesn't feel that way with Seahawk fans. The defeat didn't seem to set off a tidal wave of worry. Is that a good thing or just denial? You decide. For me, it seems pretty darn level-headed. Yes, San Francisco won. No denying that. But, as I wrote yesterday, I expected it. The 49ers were backed into Yosemite Valley, Half Dome against their posterior. They had to win. They were playing at home, where weird things happen to road teams in the NFL/Vince Grippi, A Grip on Sports, SportsLink. More here. (AP photo: Seattle Seahawks cornerback Byron Maxwell, left, intercepts a pass intended for San Francisco 49ers wide receiver Michael Crabtree during Sunday's game)
Question: Any fair-weathered Seahawks' fans scrambling to get off the bandwagon after Sunday loss?
---
---