Mon., Dec. 9, 2013, 11:10 a.m.
Warming Center To Stay Open
On its Facebook wall, the city of Post Falls announces today: "The cold weather has decided to hang around a little longer and we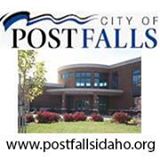 NEVER want anyone to freeze. So the St Vincent de Paul North Idaho Warming Center is going to remain open Tonight, Monday, December 9 through Wednesday. Future nights will be extended as extreme cold persists. As the sub-25 degree tem-peratures continue, St Vincent's shelter will always be open from 7 p.m.-7 a.m. Transportation will be leaving from the St Vincent de Paul Community Dining Hall at 6:45 p.m. on the nights we are open, and will transport back the next morning. The Post Falls Shelter located at 202 W. 7th Street in Post Falls, behind the Post Falls St Vincent de Paul Thrift Store, in the Kamps Apartment basement. St Vincent de Paul is able to shelter 65 individuals and will have available sleeping bags, blankets, gloves, stocking caps, coats, a full bathroom, warm food and drinks."
Question: I simply can't imagine people outside in this weather. Can you?
---
---