The story of a Montana wolf hunter shooting a pet malamute romping with its owner near Lolo Pass in November is a long way from being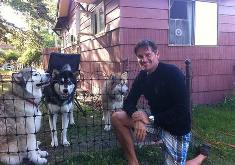 as dead as the dog. USA Today has just posted a story rehashing and updating the Nov. 18 reports that an unnamed hunter in camouflage shot one of three malamutes being exercised on a closed forest road as its owner, Layne Spence, cross-country skied with them. While law enforcement officials still contend no laws were broken, Spence of Missoula contends state law prohibits hunters from shooting on or across roadways an that hunters should always identify their prey before shooting/Rich Landers, Outdoors. More here.
Question: Do you think the slob who shot the Malamute & then didn't apologize for his mistake gives all hunters a black eye?