Christmas is coming, that time of year when the old toys are pushed aside by the new toys. My kids are like I was at that age. The polite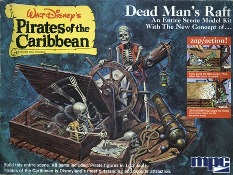 term is "collector" but, in truth, it might be bordering on "hoarder." We save everything. Of course, over the decades things do get lost. And forgotten. I wasn't overly concerned by that which I couldn't remember. What toys had I forgotten? I don't know. Such ignorance is bliss. Until the memory gets jogged. I was browsing some movie website which featured news of the next installment of the Pirates of the Caribbean series. The author chose to illustrate his post with a photo (inset). I received this model when I was 8 or 9, and it sat on the desk in my room for years. I remember fiddling with it instead of working on my math/Idaho Dad, A Family Runs Through It. More here.
Question: Can you remember a favorite childhood toy?