The Idaho State Police Bureau of Criminal Identification has added a new email subscription service that will allow notification to the public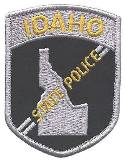 if a sex offender listed on the Idaho Sex Offender Registry changes residences. Members of the public wishing to be notified when any registrant moves inside of or out of a given radius surrounding a particular address in the state of Idaho, can simply register to be notified on the Idaho Sex Offender Registry website. The site will ask for the address of interest, the email address where the notifications are to be sent and the radius between 1, 3 or 5 miles from the street address desired for the notification. The link to subscribe to the service is located on the Idaho State Police website here. Additionally, if a person is interested in being notified when a particular registrant moves, there is a link provided under the picture on each registrant's page that says, "Track Registrant"/Idaho State Police news release. More here.
Question: Would you be interested in getting such expanded notifications?