The students and staff at a Coeur d'Alene elementary school are in for one long field trip starting next fall. Winton Elementary School will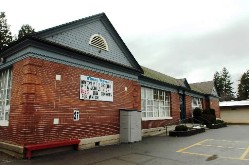 pack up and move out for the 2014-2015 school year to allow workers to rebuild the 89-year-old school – the oldest in the Coeur d'Alene district. School officials announced Monday that the 320 students and 24 staff members will relocate five miles north to the Hayden Kinder Center, an all-kindergarten school that formerly was Hayden Lake Elementary School. That will require the district to move about 260 kindergarten students into Atlas, Ramsey and Skyway elementary schools for the year. Once the new Winton Elementary is open, the kindergarten students will reclaim the Kinder Center in Hayden. Winton, about four blocks south of Kootenai Health, will undergo a massive rebuild at an estimated cost of $5 million. The project will start next summer/Scott Maben, SR. More below. (SR file photo: Winton School)
Thoughts?
It's one of five school renovations from a $32.7 million bond approved by voters in August 2012. Officials considered several options for where to place Winton students during construction, including renting vacant commercial space, inquiring about classrooms at area churches and spreading grade levels among other elementary schools in the district. The Winton community felt a strong desire to keep the students together during the construction work, district spokeswoman Laura Rumpler said.
After thorough fiscal and logistical analysis, the district chose to relocate all Winton students, kindergarteners through fifth graders, to the Kinder Center building.
Architects are working on the plans for Winton, and the district anticipates putting the project out for construction bid early in the spring.