Tue., Dec. 17, 2013, 11:30 a.m.
Carlson: Pope Francis & Family
Many Catholics, both Mass-going and lapsed, were pleased to see Time Magazine accord the new Pope, Francis I, its "Person of the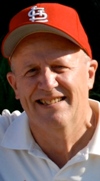 Year" award. He not only has been one of the top news-generators this past year, what he is saying, and how he is walking the talk, has spoken volumes to people hungry for some moral leadership in this world dominated by situational ethics. No one would characterize me as a "pray, pay and obey" Catholic. Indeed, conservative Catholics would probably tag me with the pejorative "cafeteria Catholic," meaning one who picks and chooses which Church dictums to follow. The counter to this myopic view is to point out that above all else the Roman Catholic Church affirms the right of an individual to exercise his or her own conscience after prayerful consideration of church teachings/Chris Carlson, The Carlson Chronicle. More here.
Question: Are you a "cafeteria" church goer (see Chris' definition of 'cafeteria Catholic' above)?
---
---