Wed., Dec. 18, 2013, 5:14 p.m.
Caring For Older Parents
As time goes by, and we get older... some have to deal with caretakers for their parents... Sometimes it is family. Sometimes it is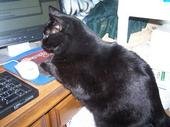 agencies. And some times it is health care centers, (use to be called nursing homes). Over the years, there have been large families.. Use to be in the same town. Brothers and sisters. So when Mom or Dad, started to fail, there was family members close by to step up to the plate. Some of them took the parents into their homes. To raise the children and care for the parents. In those days, the wife was the one who did most of it, as she didn't work. Then wives started with careers of their own. But still with so many children, there was enough support system/From A Simple Mind. More here.
Question: Is your family involved with caring for older parents?
---
---