Wed., Dec. 18, 2013, 9:03 a.m.
Elf On The Shelf Faces Backlash
Carly Kerby, a mom of four girls, doesn't have the greatest track record as the Tooth Fairy, but it was another family tradition that nearly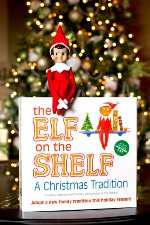 did her in: The Elf on the Shelf. In case you've been hitting the egg nog a little too hard all these years, the elf is a big seller. It involves a picture book and a stuffed, felt elf that serves as a scout for Santa and has to be moved stealthily every night, traditionally around Thanksgiving until Christmas Eve. The elf's mission? To report back to the boss in red on who's been naughty or nice. After eight years on the market, more than 6 million of the kits, book and elf, have been sold, and it has climbed high on best-seller lists, with two sexes and different skin tones now available. Kerby, in Salt Lake City, thought it sounded like fun when she took it on last Christmas/Associated Press. More here. (AP photo)
DFO: I'd never heard of Elf on the Shelf until someone mentioned it in the Cutline Contest Tuesday.
Question: Have you had hands on experience with Elf on the Shelf?
---
---