Perhaps you are as confused as I am about the recent mixed messages from the federal government about cell phone use on airplanes. (I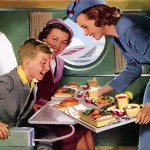 know, you're shocked that our government is sending mixed messages.) Let's just say this: I know what the policy should be – no cell phone calls on airplanes. None. Zilch. With so very much glamor involved these days in hauling your body on to a Canadair regional jet – the planes with tiny overhead bins and a restroom right sized for the Munchkins from Oz – or spreading out in the sleek Airbus 310 with its expansive five inches of leg room (or less then the jerk in the row ahead of you insists on putting his seat all the way back) why risk diminishing the sophistication of modern air travel with something as crass as a public phone call originating from 11B?/Marc Johnson, The Johnson Report. More here.
Question: Can you think of a dumber idea re: air flights than allowing passengers to talk on cell phones?