WEDNESDAY, DEC. 18, 2013, 11:28 A.M.
SR: Pit Bulls Need Leashes, Not Ban
We don't want to write an elegy to Koko. We just want to keep admiring her picture – all eager eyes and beautiful brown markings – and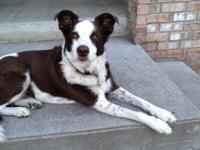 think about dogs in general. The love, the loyalty and the utter joy they bring. The writer Roger Caras said, "Dogs are not our whole lives, but they make our lives whole." This isn't true for everyone, but it was true for Dan Pelle and his family, who lost their beloved pet to a vicious attack that never should've happened. Pelle, a photographer for The Spokesman-Review, was walking Koko last Thursday in a South Hill field, as he had done countless times before. But on this day two young men were walking a pair of unleashed pit bulls. The dogs spotted Koko and charged. Two frantic minutes later, a beloved 11-year-old Australian Kelpie-spaniel mix was mortally wounded. Pelle escaped terrified but not seriously harmed/Spokesman-Review Editorial Board. More here.
Question: If I ruled the universe, I'd ban pit bulls. Fuhgeddabout leash, license laws. They are simply too dangerous. What do you think?
---
---