The grieving woman on the radio said the ghosts are everywhere in her small town of Newtown, Conn. The town has 26,000 people. That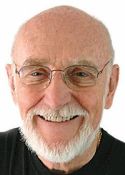 means almost everyone in Newtown knows several of the families who lost someone to an addled gunman a year ago. We almost all see familiar ghosts from time to time, whether that involves the tragic loss of a wee one or the exit of someone who gently expires of old age after a long, happy life. While I am not superstitious enough to believe in classic, actual Hollywood ghosts, from time to time I do see missing friends and family members. Most of us, lost in thought at the grocery store or the shopping mall, come back in focus from our daydreams and there she is. Or there he is. The most frequent such "ghost" in my life has been my mother, especially in the first year or two after she hit the road to higher places/Bill Hall, Lewiston Tribune. More here.
Question: Do you occasionally "see" a missing loved one?