Tue., Dec. 31, 2013, 3:26 p.m.
ISP Badges To Have Vintage Look
Idaho State Police Troopers will soon be adorning badges with a vintage look to mark its 75th year. The commemorative badge was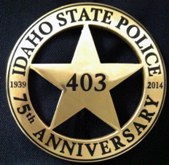 specially designed to resemble the one worn by the earliest officers of the Bureau of Constabulary, the predecessor to the Idaho State Police. The badge is a five point star in a circle with the words "Idaho State Police - 75th Anniversary" and list the years "1939-2014" engraved in black. Each Trooper has his or her car number in the center of the star. The majority of the badges are silver and command staff will wear a gold badge. The badges will be worn during the entire year of 2014/ISP news release. More here.
Thoughts?
---
---