Fri., Feb. 1, 2013, 10:39 a.m.
Mother Jones To Fight Vandersloot Suit
Mother Jones magazine is standing behind the article that spawned a defamation lawsuit filed Tuesday by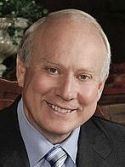 Melaleuca CEO Frank VanderSloot (pictured in Wikipedia photo). VanderSloot is seeking $74,999 in damages for portions of the article portraying him as anti-gay and a Twitter post calling him "(Mitt) Romney's gay-bashing friend." Mother Jones Co-Editor in Chief Monika Bauerlein was named as a defendant along with reporter Stephanie Mencimer and the magazine itself. Though Bauerlein hadn't had a chance Thursday to review the 86-page lawsuit, she said to expect the magazine to fight the suit in court instead of settling. "We're really confident about our reporting," Bauerlein said/Zach Kyle, Twin Falls Times News. More here.
Question: Do you expect a fight to the finish re: this lawsuit?
---
---