Mon., Feb. 4, 2013, 2:25 p.m.
Abductor Dead, 5YO Hostage Free
The 65-year-old retired truck driver who held a 5-year-old autistic boy hostage after killing a school bus driver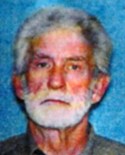 last week is dead and the child is safe, according to news reports. CNN, citing law enforcement sources, says Jimmy Lee Dykes (pictured) was killed this afternoon. An ambulance was seen leaving the scene. ABC News also reported the hostage situation was over. There were reports of one or two loud bangs on the property in Midland City, Ala., where Dykes had held the boy in a homemade bunker since abducting him from the bus last Tuesday. A neighbor who lives about a quarter-mile from where Dykes was holed up told the Associated Press that he heard a boom followed by a gunshot/Michael Winter, USA Today. More here.
Thoughts?
---
---