Mon., Feb. 4, 2013, 10:23 a.m.
Best/Worst Super Bowl Ads
The day after the Super Bowl, the ads are as much a topic of discussion as the game. A 30-second spot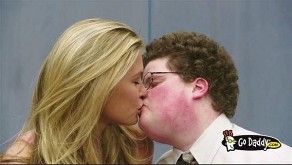 during the game cost $3.8 billion – up 27% from 2011, according to Advertising Age. That spurred stiff competition to see which brands could create ads that resonated with viewers while promoting their products. This year, there were fewer talking animals or babies. Some of the most memorable ads played on the emotions of viewers, rather than trying to make them laugh. Examples of this were Dodge Ram's "God Made a Farmer" ad and Budweiser's Clydesdale ad. We asked Wall Street Journal readers on Twitter what they thought were the best and worst ads of the Super Bowl. To tweet us your opinion, use the #bestad or #worstad hashtags. You can also watch and rate all of the Super Bowl ads here/Wall Street Journal. More here. (GoDaddy Super Bowl ad photo: Bar Rafaeli kissing Jesse)
SR CdA staff is high on the following Super Bowl ads: Clydesdale & Trainer, Library Fight, "God Made A Farmer" & Nerd Kissing Beauty. How about you?
Question: Which was the best/worst Super Bowl ads?
---
---