MONDAY, FEB. 4, 2013, 8:38 A.M.
Immigration Reform Splits Tea Party
The bipartisan effort to pass immigration legislation has driven a wedge through the heart of the Tea Party — with some of the GOP's staunchest advocates and fiercest opponents of reform hailing from the insurgent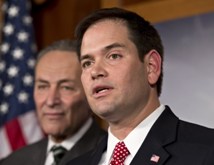 movement. On one side, Sen. Marco Rubio (R-Fla.): A Tea Party hero who was one of the movement's early success stories, Rubio is leading efforts to sell the bill to the GOP's conservative wing. Sen. Jeff Flake (R-Ariz.) and Reps. Paul Ryan (R-Wis.) and Raul Labrador (R-Idaho), three other Tea Party favorites, have also been closely involved in the bipartisan negotiations.

 But others closely aligned with the Tea Party movement have come out — hard — against the bipartisan framework/Cameron Joseph, The Hill. More here. (AP photo: Sen. Marco Rubio, R-Fla., right, and Sen. Charles Schumer, D-N.Y., left, discuss agreement on sweeping immigration reform last week)
H/T: Kestrel West Morning Memo
Question: Where do you stand on the immigration debate?
---
---