Mon., Feb. 4, 2013, 11:02 a.m.
Labrador Mulls Gubernatorial Run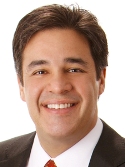 People packed Meridian City Hall Thursday night to hear U.S. Congressman Raul Labrador, R-Idaho District 1. When an audience member asked the congressman if he's considering running for governor, Labrador responded, "At this moment in my life I am so humbled and honored that people keep asking me that question. … I feel really strongly that I'm doing what I need to do in Washington, and I will be making a decision about that in the next few months, hopefully by the middle of the year"/Holly Beech, Idaho Press-Tribune. More here.
Question: Would you like to see Congressman Raul Labrador run for governor?
---
---