Mon., Feb. 4, 2013, 3:48 p.m.
Spam & Lima Beans: Just Eat It
Making dinner is always a chore for me. Breakfast is easy – cereal, toast, juice, bacon. Lunch is fun, a time to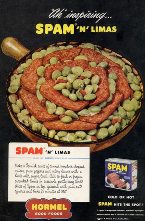 be creative, even though my kids usually just want turkey sandwiches and apple slices. But dinner, I never have any good ideas. When I do come up with something good, chances are the kids will complain about it. They'd be happy eating spaghetti every night. What I need to do is make one truly horrible meal as a benchmark for their complaints, so they can always say, "At least it's not as bad as what Daddy made that one night!" I thought I had already made a few bad ones, but now I believe I've found something even more horrible…/Idaho Dad, A Family Runs Through. More here. (Photo: Hormel Foods)
Question: Describe the worst meal you've eaten in the past year.
---
---