Mon., Feb. 4, 2013, 8:27 a.m.
Trib: Chauvinist Blocks F&G Pick
Senate Resources Committee Chairman Monte Pearce (pictured) should just come clean about it. The only reason the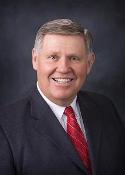 New Plymouth Republican is stalling Joan Hurlock's appointment to the Idaho Fish and Game Commission is her gender. Hurlock of Buhl is only the second woman named to the panel. The first was Nancy Hadley of Sandpoint, who served from 1997 to 2005. Now where would we get such an idea? Could it be the unequal treatment Pearce has afforded the two Fish and Game appointees Gov. C.L. (Butch) Otter named in June? Both Challis miner Will Naillon and Hurlock were thoroughly vetted by an eight-member panel. In Hurlock's case, all eight members recommended she be included among the three names forwarded to Otter. While Naillon sailed through his confirmation hearing, Hurlock has been cooling her heels/Marty Trillhaase, Lewiston Tribune. More here.
Question: Should women's groups turn up the heat on Senate Resources Committee Chairman Pearce?
---
---