Tue., Feb. 5, 2013, 8:49 a.m.
Trustee Regan Apologizes Again
Addressing another embarrassing incident for the school district, Brent Regan, the newest member of the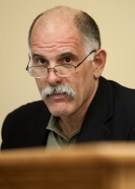 school board, apologized again for recently making a public remark about President Barack Obama that offended some. Facing fellow board members Monday night, Regan said he made "a regrettable comment and some people found it offensive, and I'm deeply sorry for that." He apologized to the board, administrators, teachers, parents and students. Regan has said he meant the comment he made at a legislative forum on Jan. 26 as a humorous anecdote but understood that it was hurtful to some in the community. He also apologized last week at a meeting of local Republicans/Scott Maben, SR.
Question: Trustee Regan has apologized 3 times for his anti-Obama "joke" at a legislative forum in Post Falls earlier that month. I think he has handled the matter responsibly and done enough. Do you?
---
---