WEDNESDAY, FEB. 6, 2013, 8:44 A.M.
Burger Flipper Wins $100K, Quits Job
Earning enough money to attend college has been a process for Kyle Messier (pictured in Idaho Lottery photo). But that process received a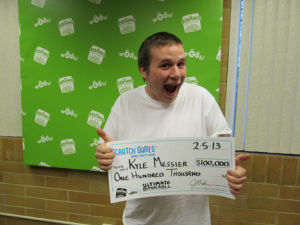 faster timeline this week when the Post Falls man won $100,000 on the Idaho Lottery's Ultimate Bankroll scratch game. Messier was planning to work for two or three more years to save money for college and put his fiancee through school first. But, shortly after he won, he quit his fast food job and plans to attend a trade school. He said furthering his education has been a goal amid working extra hours at his job. "Wow, that's about six years of salary at my old job," said Messier when he held his check at the lottery offices in Boise on Tuesday morning. "This is a dream come true and couldn't have come at a better time. "I guess you could say I called in (to work) rich"/Brian Walker, Coeur d'Alene Press. More here.
Question: What advice would you give Kyle Messier?
---
---