Wed., Feb. 6, 2013, 8:53 a.m.
Labrador Fires Spokesman For Tweet
Originally posted at 5:01 p.m. Tuesday
U.S. Rep. Raul Labrador fired an aide who sent a tweet that appeared on the congressman's account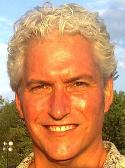 commenting on a sexually provocative television advertisement during the Super Bowl. The Idaho Statesman reports Labrador spokesman Phil Hardy was jettisoned after the incident in which a tweet was posted on the second-term Republican congressman's account that read "Me likey Broke Girls." It was a reference to two actresses from the TV show "2 Broke Girls" doing a pole dance in the Super Bowl ad. The tweet was deleted 14 seconds after it was posted, but is viewable through a website that collects deleted tweets from politicians. The same tweet appeared on Hardy's personal account. Labrador's office, which has apologized, didn't return a call seeking comment. Neither did Hardy on Tuesday/Associated Press. (Photo from Hardy's Twitter page)
Question: Why did Labrador deal with Hardy's snafu so abruptly?
---
---