Thu., Feb. 7, 2013, 11:54 a.m.
Necktie Brought Duo Together
If Justin Sherfey, 14, had known how to tie a necktie, a gifted musical duo might never have been born. As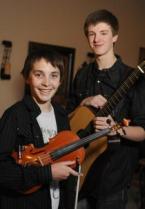 Sherfey, the reigning Northwest Fiddle champion, waited to take the stage for a local talent competition, he realized he had a wardrobe malfunction. Colby Acuff, 16, had just performed and saw the younger teen fumbling with his necktie. "I didn't know how to tie it, so he tied it for me," said Sherfey. Acuff's skills extend beyond tying neckties. Since age 7, he's been delighting audiences with his powerhouse vocals. When his band broke up a year and a half ago, he gave Sherfey a call and together they created a dynamic musical partnership. The fact that Acuff lives in Coeur d'Alene and Sherfey in south Spokane wasn't an issue thanks to the support of what they refer to as their "momagers"/Cindy Hval, SR. More here. (Jesse Tinsley SR photo: Justin Sherfey, left, and Colby Acuff perform as a country rock duo at local venues and for private parties and banquets)
Question: Do you have more musical talent than your children?
---
---