Thu., Feb. 7, 2013, 4:41 p.m.
Clark Lobbying Against Do-Not-Call
Former longtime North Idaho Rep. Jim Clark returned to the Legislature on Thursday - as a lobbyist pushing to loosen up Idaho's do-not-call list for phone companies. After winning a unanimous vote from a House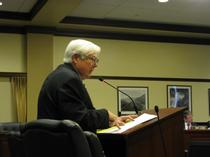 committee for the bill, which would drop a restriction that now prevents phone, cable and cellular companies from cold-calling their customers to sell them new products if they're on the do-not-call list, Clark was buoyant. But the Idaho Attorney General's office wasn't - they say Idahoans don't want more dinnertime cold calls. Brett DeLange, head of the Consumer Protection Bureau for the Attorney General's office, said more than a million Idahoans have signed up for the do-not-call list, indicating "the overwhelming desire of Idaho citizens to be left alone while they're trying to eat dinner, while they're trying to do their homework, they're trying to have family time"/Betsy Russell, SR. More here.
Question: This is what frustrates me re: our Republican-controlled Legislature. Idahoans overwhelmingly don't want to be bothered by telemarketers. Yet one lobbyist can persuade legislators that they know best in going against the will of the people. Can someone explain this phenomenon to me?
---
---