Thu., Feb. 7, 2013, 11:05 a.m.
Girl Scouts Seek Idaho Tax Exemption
For cookie connoisseurs, this might be the best time of year. It's Girl Scout cookie season. Starting next week,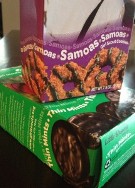 Idaho Girl Scouts will be canvassing neighborhoods and their parents' offices to take orders for boxes of Thin Mints, Samoas, and all the rest. Each box sells for $3.75, and 22 cents of that goes to the state. Idaho and Hawaii are the only two states in the country to tax the sale of Girl Scout cookies. That's according to the Girl Scouts of Silver Sage, the council of Girl Scouts in southern Idaho, northern Nevada and eastern Oregon. The council is behind an effort to exempt the cookies from sales tax in Idaho. All together, their Scouts in Idaho sell about $2.5 million in cookies each year, $140,000 of which goes to the state/Emilie Ritter Saunders, StateImpact. More here. (StateImpact photo: Emilie Ritter Saunders)
Question: Should Idaho tax Girl Scout cookies?
---
---