Thu., Feb. 7, 2013, 11:29 a.m.
Idaho GOP Opposes Health Exchange
The Idaho Republican Party today reminded the Idaho State Legislature that the state's Republicans stand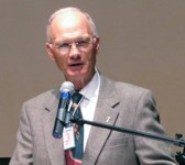 opposed to the creation of a state health insurance exchange. The reminder comes as the State Senate is considering Senate Bill 1042, which would create an insurance exchange under the Patient Protection and Affordable Care Act. "The Idaho Republican Party's position is clear and irrefutable. We want no part of Obamacare. We want the state to reject the implementation of a health insurance exchange. We want the state to appropriate no money for an insurance exchange, and we want Idaho to be among the growing number of states that have refused to go along with an insurance exchange," said Idaho GOP Chairman Barry Peterson (pictured)/Idaho Republican Party news release. More here. (AP file photo)
Question: Will the Legislature side with the Idaho Republican Party or Republican Gov. Butch Otter?
---
---