Thu., Feb. 7, 2013, 8:17 a.m.
Lake City Dreams Big RE: Future
Why not? That's Rocky Owens' only question behind his vision for Coeur d'Alene's future. His vision includes a light rail between the Lake City and Spokane - a social, economic and environmental benefit to the region for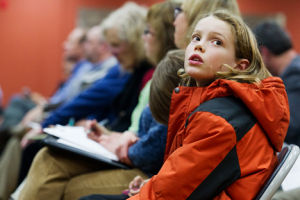 future commuters and tourists alike. And if long-range planning involves thinking big, Owens' idea is as well-sized as they come. But is it feasible? "Why not a light rail?" the 40-year-old said Wednesday during one of two public meetings called to ask whether the community would be willing to begin a long-range planning project for the region's future. ... Whether the neighboring cities are connected by rail before 2030 remains to be seen, naturally, but ideas on the future of Coeur d'Alene left few stones unturned after a day's worth of meetings hosted by strategic planner Steven Ames/Tom Hasslinger, Coeur d'Alene Press. More here. (Shawn Gust Press photo: 9YO Zane Pomerantz attended the Vision 2030 meeting)
Question: Did you attend any of the Vision 2030 meetings?
---
---