Thu., Feb. 7, 2013, 8:36 a.m.
Some Legislators Can Shoot Straight
When Rep. JoAn Wood returned home from her husband's funeral several years ago and discovered that someone had broken in and stolen his gun collection, she just wanted to cry. The 78-year-old Rigby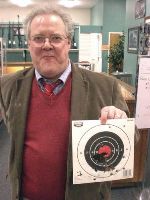 Republican wasn't shedding any tears Thursday, though. After firing a few bursts from a Thompson submachine gun during gun night at the Idaho Legislature, Wood was all grins - and eager for any low-life burglars to make a return visit. "I'll be ready for them next time," she said. Gun control may be all the rage in Washington, D.C., but it doesn't get much play in Idaho, where the Second Amendment enjoys greater support than some of the Ten Commandments.Guns and lawmakers is an almost iconic combination in the Gem State, as popular as peanut butter and jelly. Almost three dozen senators and representatives attended last week's event/William L. Spence, Lewiston Tribune. More here. (Lewiston Tribune photo: Lewiston Rep. John "Just call me Dillinger" Rusche displays a target he shredded with a .45-caliber pistol — showing that Democrats can shoot, too)
Question: Does it matter to you whether or not your legislators can shoot guns?
---
---