Thu., Feb. 7, 2013, 9:47 a.m.
Vito, Panel OK w/Phone Telemarketers
The House State Affairs Committee has voted unanimously in favor of HB 55, to let phone companies and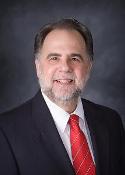 other telecoms call their customers to pitch products, even if those customers are on the "do-not-call" list. Rep. Vito Barbieri (pictured), R-Dalton Gardens, said people have more options these days to not pick up their phones when such calls come in. "I think given the equities here, we should eliminate this restriction for telephone companies," he said. The bill adds a new clause to Idaho's do-not-call law saying that if a business calls an existing customer and the customer asks them not to call again, they have to comply, and there's a $500 fine for violations/Betsy Russell, Eye on Boise. More here.
Question: Do you want to join me in thanking Rep. Vito Barbieri, R-Dalton Gardens, for caring more for the phone telemarketers than his constituents?
---
---