Fri., Feb. 8, 2013, 8:48 a.m.
Carlson: Labrador Probabilities
First District Congressman Raul Labrador is a smart, charming, articulate, up-by-the boot-strap, 45-year-old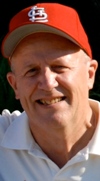 attorney known for his fearlessness in taking on the establishment within his Republican Party in Idaho as well as Washington, D.C. A darling of the Tea Party types (those to the right of Attila the Hun) and the Club for Growth as well as the Grover Norquist never-support-a-tax-increase of any kind for any reason crowd, he is being urged to come home to seek the governorship. Odds are, he will, for a variety of reasons not the least of which is a sincere desire to spend more time with his wife and the four of their five children still living at home in Meridian. Labrador and his wife are both devout members of the LDS Church, and family togetherness is a cherished value and tenet of their faith/Chris Carlson, Carlson Chronicles. More here.
Question: Could Labrador beat Otter in a race for governor?
---
---