Mon., Feb. 11, 2013, 8:44 a.m.
20% Of Solons Speak 2nd Language
At least 21 legislators, or 20 percent of 105 senators and representatives, speak a language other than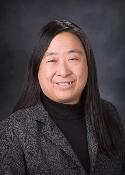 English, reports AP reporter John Miller, belying the image some might have of Idaho as a isolated hinterland whose residents pay little mind to what happens beyond their borders. A big reason: Idaho's population is 27 percent Mormon, and least 16 legislators, all men, learned second languages — German, French, Spanish and Portuguese, and Maori — in preparation for a Church of Jesus Christ of Latter-day Saints mission. Nearly all of them say having a second language in their linguistic arsenal helps them in their work as lawmakers/John Miller, AP, via Eye on Boise. More here. (Idaho Legislature photo of Idaho Rep. Sue Chew, who speaks Cantonese)
Question: Do you speak a second language?
---
---